In our blog INNOVATION PRINCIPLES (part 1) we introduced the nine principles that guide the way we work with clients, and we looked in detail at the the first three that help us 'inform'.
As a reminder, innovation principles last longer than methods and approaches; principles are guides that allow us to evolve methods and improve and adapt them to client situations. Whether we are working with clients to help them develop a new innovation strategy or working on specific innovation challenges these nine principles apply.
In this blog we look at the next set of principles, those that help us to 'execute' innovation.
Principle #4:
Seek innovation at the level of the business model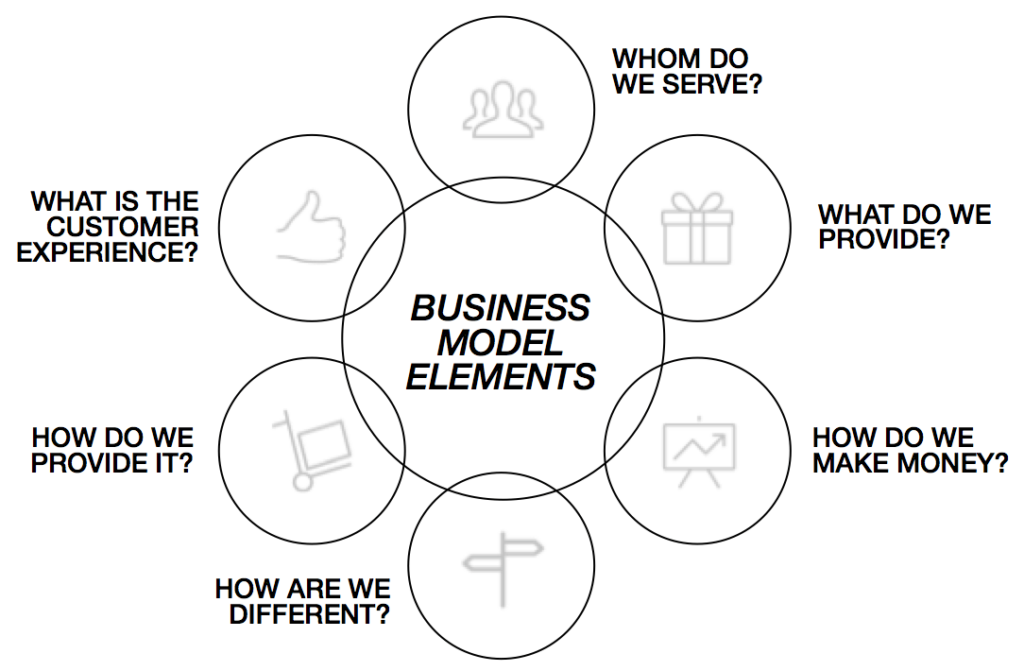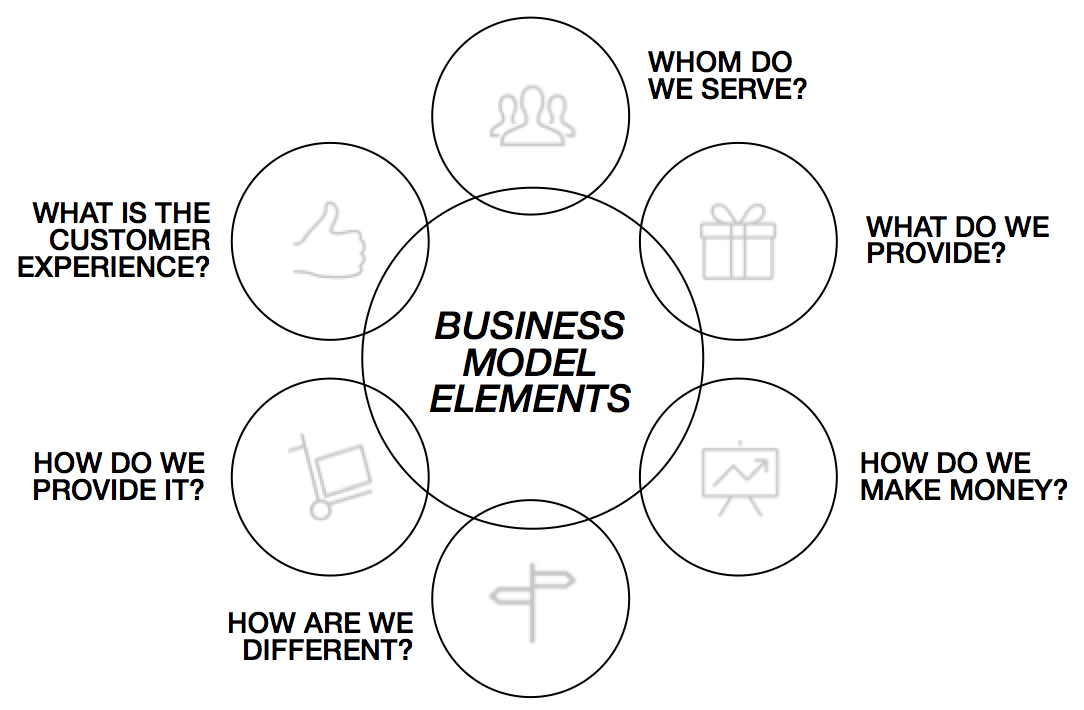 We believe that to fully 'execute' an innovation it is necessary to consider the many facets of the business model. Our simple model shown below always us to examine each aspect of the overall business model and challenge our clients to differentiate as many of these as possible. For example, can we stretch and
improve the emotional and functional benefits that we provide? can we consider an alternative mechanism for making money? is there a different and/or unique way in which we can provide the concept/service? In our experience it is not simply enough to come up with a new product with a distinctive set of features but it is necessary to 'bundle' a set of business model components to make the eventual product/service really innovative. A good example is the iPhone – a great device with a set of killer features but what really made the iPhone a truly great innovation was the business model built around it – the tie-ups with telcos, the apps, the link to the wider Apple eco-system such as iCloud. Another great example is Nespresso – not just great coffee dispensed from well-designed machines but a radical business model based around simplicity and convenience at a premium price. And finally another example from the B2B space is Rolls Royce who turned their business model around in the early 2000s with the introduction of TotalCare®, a new service model which allowed them to share risk and reward with their customers, moving away from the traditional repair and maintenance model. TotalCare covers service elements such as predictive maintenance planning, workscope creation and management, and all off wing repair and overhaul activities. Fundamentally, TotalCare® rewards reliability, a factor valued most highly by customers, and customers are charged on a $/engine flying hour basis. By 2010, 65% of all in-service large engines were covered by TotalCare®.
Principle #5:
Evaluate new opportunities using different criteria
If we continue to apply the same old 'stage-gates' or metrics to our new innovations as we have in the past then what we are likely to find is that we get much of the same opportunities passing the evaluation hurdles. This is a recipe for a lack of competitiveness and ultimately a set of very incremental offerings.
Whilst this may be OK in a very stable market/industry where there is a industry wide set of accepted metrics and the outcomes are heavily regulated e.g. pharmaceuticals, this is not OK in fast moving industries with fast changing business models. So again we need to look at the overall business model that is necessary for the given product/service.
A good example is the telco sector. Where only a few years ago the key metrics were purely transactional, e.g. voice minutes, text messages, today the metrics revolve much more around data usage, services adoption, app purchases and loyalty. Today existing users get better deals than new users compared to a few years ago when everything was focused on buying market share. Any telco using the same metrics as even 2 years ago will not be evaluating new opportunities with a clear understanding of the current market demands.
So the question we need to constantly ask is … 'given the current and likely future state of the sector/industry, what are the key components of the overall business model that we need to evaluate new innovations against?'
Principle #6:
De-risk through in-market learning and experimentation
Typically any new idea, no matter how brilliant, is not complete. There are a set of assumptions and hypotheses around the implementation of the idea that you need to test before you can commit the required many millions of budget to a market launch. Again we find ourselves looking at the business model again and disaggregating the offering and the business model into small chunks and testing each chunk. Experimentation: revolves around testing 3 things in the following priority;
will they buy it – who is the customer, what are the benefits?
can we provide it – what is the desired consumer experience journey, capabilities required, etc.
can we make money? e.g., are our assumptions about the correct price point accurate? are our assumptions about the frequency of purchase correct?
The best experiments require an exchange of value between customer and provider so that we can examine the results of that exchange and make adjustments to the next iteration of the concept. Often, this is not in the final purchase or consumption context and does not always have to be about branded prototypes. And it is certainly not about about panels or market tests on full concepts or testing everything about the new idea at once.
A great example of de-risking through experimentation is that of Redbox. The original concept of an unattended retail store was quickly trialled and lessons learnt. From this a quite different pilot was launched and again through the application of the key learnings the final launch was quite different again but it was firmly grounded in an understanding of what the customer wanted, at what price, and in what locations. And this is what ultimately make the concept such a success.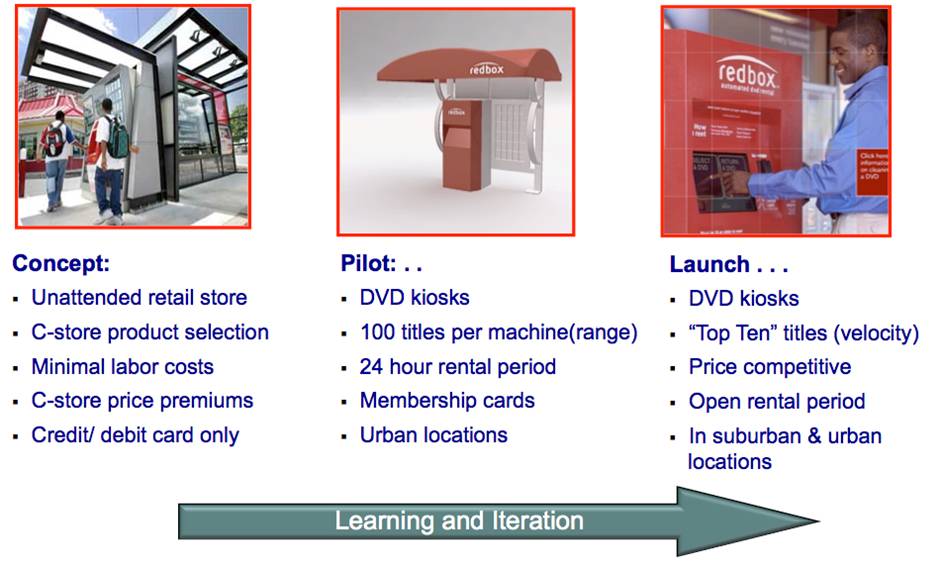 In our final blog in this series we will examine the principles that help to embed innovation.