Innovation to extend your core business and create platforms for future growth
Too many innovation initiatives are poorly aimed, resulting in a blizzard of small, unrelated ideas or failing to convert potential opportunities into successful businesses. We help our clients identify a portfolio of opportunities and create new businesses within their core markets, adjacencies, and white spaces.
 
While innovation remains a topic of strategic importance and corporations worry about disruption, most do not invest adequately to prevent it. If this seems tough to accomplish, especially when new opportunities do not immediately fit the current business model, we have the methods, tools, and approaches that help clients invest in their future success.
 
Strategos' clients benefit from a proven, repeatable, and systemic approach to innovation. We provide support in three key areas: discovery to generate new perspectives, opportunity identification by ideating using comprehensive insights, and realization of ideas into business models that can be tested, launched, and scaled.
A repeatable process for growth

Key elements of our methodology:
Uncover deep insights into customer needs
Translate trends and discontinuities into opportunities
Inspire disruption by challenging company and industry beliefs
 Leverage core competencies for opportunities in adjacent markets (link HBR explainer video)
Generate ideas and turn these into a portfolio of actionable growth opportunities
 Design and develop innovative concepts for products, services, and new business models
Accelerate and scale viable concepts into new business ventures
"Organisations over invest in the past at the expense of their future"
Discover how Strategos can help you compete for the future.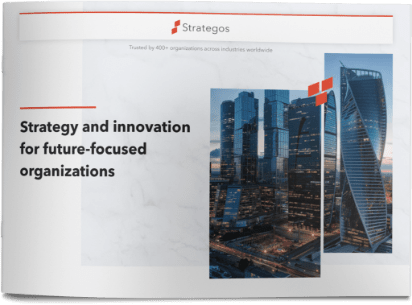 Download our brochure with detailed information about how we help our clients.