Innovation Capability Development
Unleash innovation potential by embedding innovation to the core of your organization
For many companies, there is a wide gap between the aspirations of executives to innovate and the ability to execute resulting in disappointment, frustration, and a lack of further investment in innovation. What sets successful companies apart from the rest is that they all have a world-class innovation capability, a culture, and a strategy that drives innovation.
 
What's missing is an innovation system that brings together the right talent, processes, and behaviors. This system approach transforms how companies aim and execute innovation, mobilizes people to participate, and delivers sustainable competitive advantage.
We help our clients develop a world-class innovation capability by:
Assessing your current innovation culture, practices, and capabilities
Developing an innovation strategy and plan for embedding innovation to the core
Implement a governance system for making quick and clear decisions
Developing a community of skilled innovation practitioners
Executing real innovation challenges for on-the-job learning
Establishing a culture of innovation with shared values and new behaviors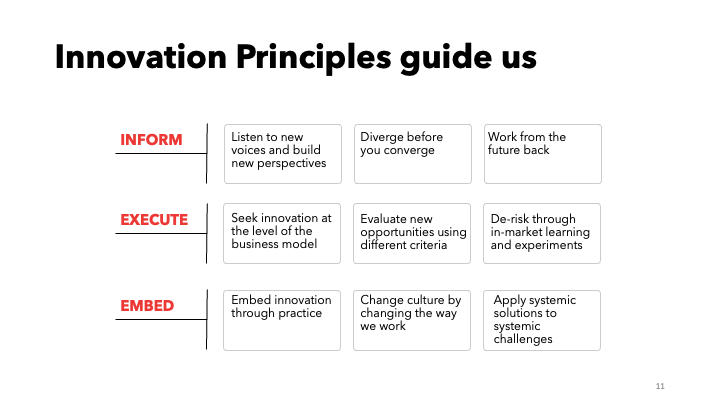 Building an operating system for growth
Past results are a poor predictor of future success. Innovation can drive competitive differentiation and sustainable growth, but it needs to be a repeatable process based on proven principles. Too often, innovation is approached in isolated initiatives, campaigns, and projects that fail to have a lasting effect on growth and capability development.
 
From our beginnings in 1995 to the present day we have finetuned our approach from real-world experiences but always based on the set of principles by Gary Hamel and C.K. Prahalad.
Innovation to the core program

We have worked with leading organizations worldwide on embedding innovation to the core and implementing a repeatable process for innovation. We are unique in our commitment to making innovation happen quickly and making it stick. We aim to mobilize people by working in teams on real innovation challenges parallel to implementing the innovation system. Steps included in this program:
1.
Diagnosing the current state of Innovation
2.
Aligning the leadership on the vision of success for innovation
3.
Highlighting the gap between the goals for growth and current innovation capabilities
4.
 Defining an Innovation system that illustrates which capabilities we need to build 
5.
Develop a plan to implement in a stepwise fashion
6.
Select a set of innovation challenges to execute
Establishing a culture of innovation
Creating a culture of innovation requires shared values that foster creativity, risk-taking, and collaboration. Our methods promote diverse thinking and new behaviors because they help people generate new perspectives and ideas. To achieve this, we eliminate barriers that hinder innovation, such as restrictive policies and processes, while enhancing strengths like employee skills and talents. We develop innovation leaders who can challenge conventions and inspire and support their teams in pursuing breakthroughs. By combining these elements, we help our clients create an environment that cultivates innovation and unlocks the true potential of the company.
Discover how Strategos can help you compete for the future.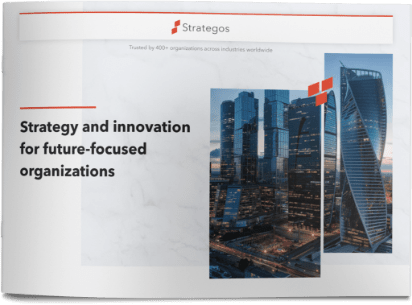 Download our brochure with detailed information about how we help our clients.